Body Paint by Ada Bird Petyarre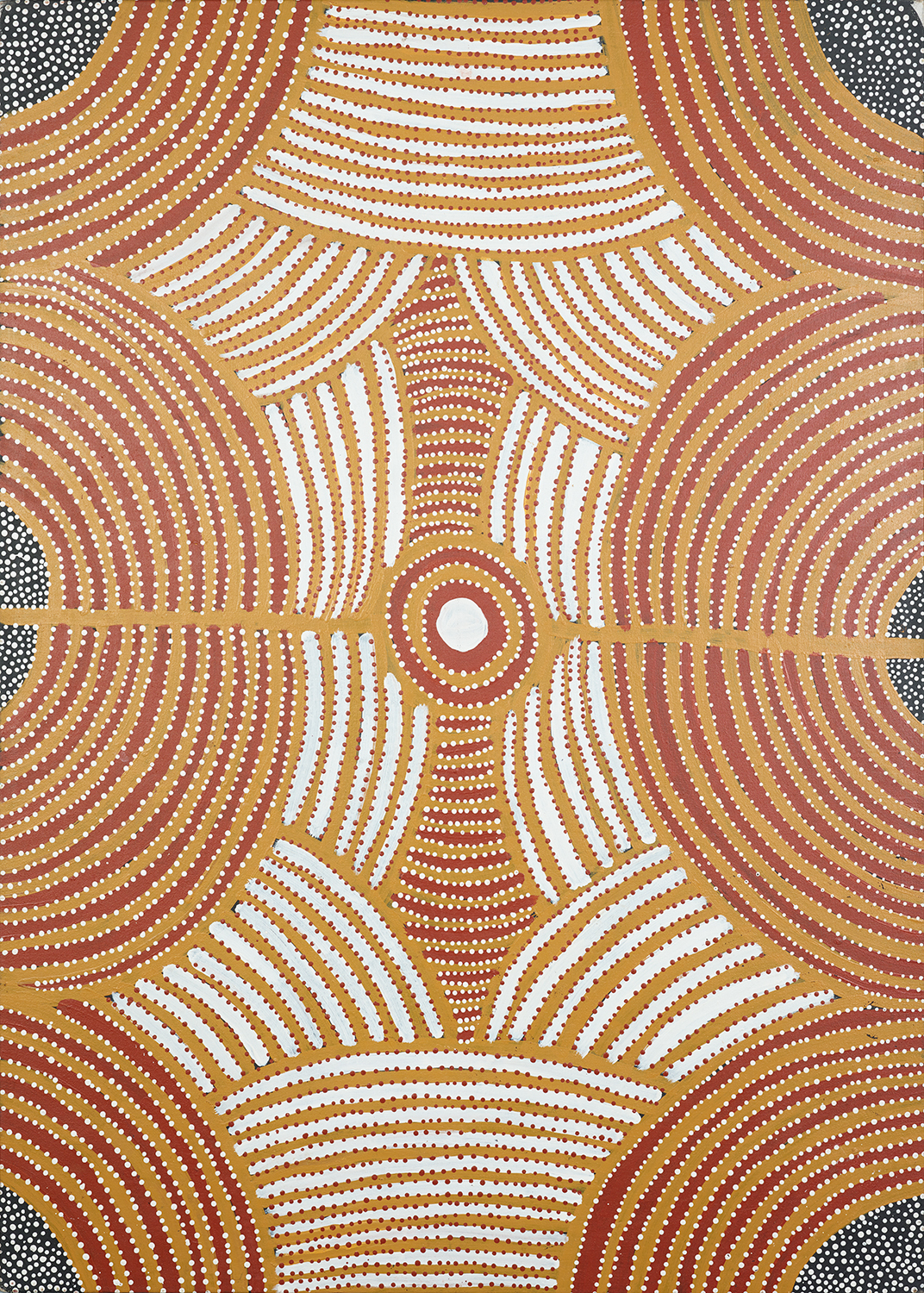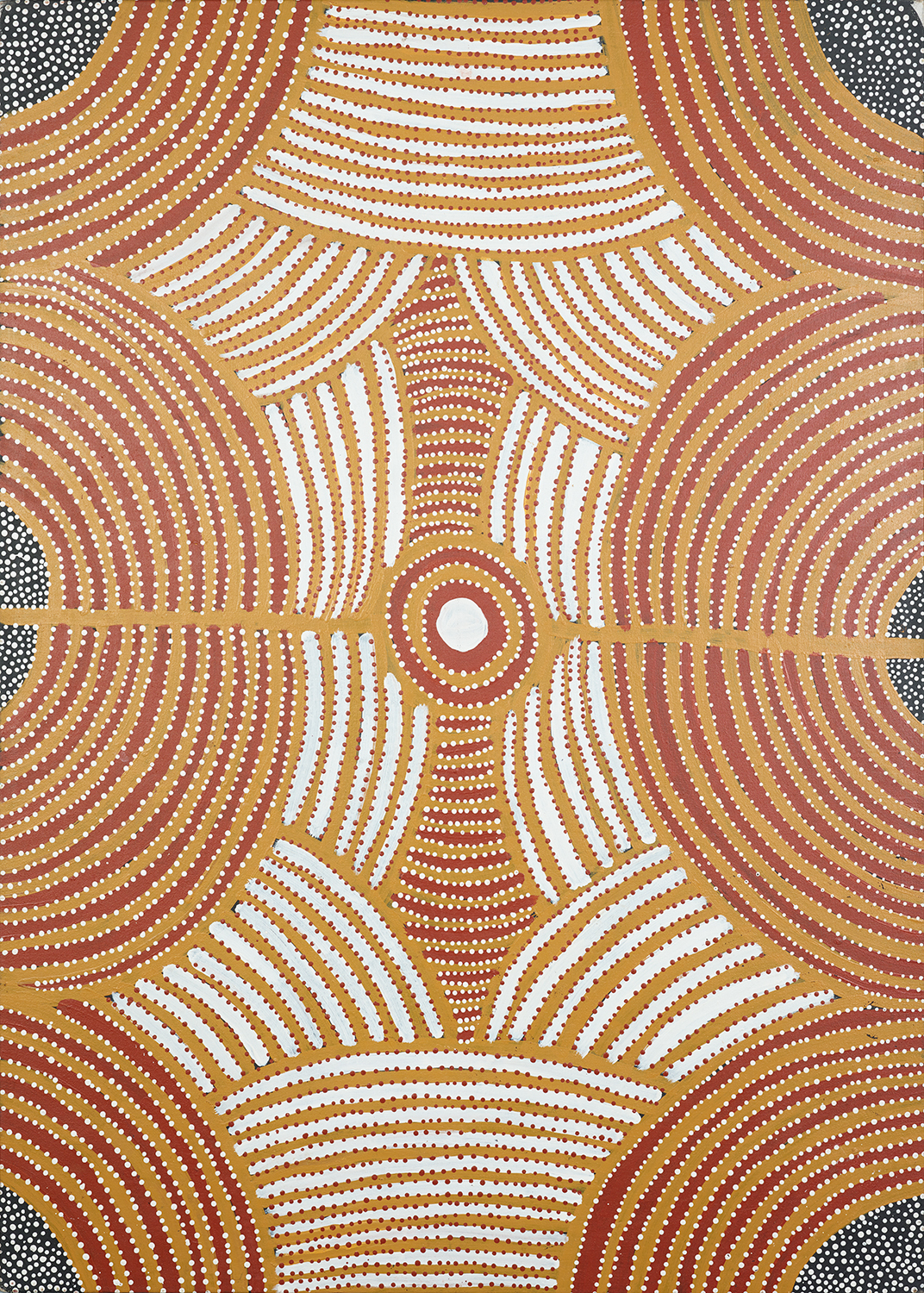 Body Paint by Ada Bird Petyarre
Ada Bird Petyarre 1930 - 2008
Acrylic on canvas
120 x 85cm
In Aboriginal culture, traditional ceremonies play an important part in society. Ceremonies are celebrated by both men and women but are kept separate. It often involves the painting of the top half of the body, respective of the occasion, in designs using ochres and animal fat (for adhesion). Besides traditional ceremonies, other events could be the death of a loved one, boys' initiation, fall of rain for example. The body painting ceremony plays a significant role in the development and continuation of Aboriginal culture.
Acclaimed Utopia artist, Ada Bird Petyarre, was well known for the breast paint-ups of her Awelye (body paint designs) and for Arnkerrthe (Mountain Devil Lizard) paintings.
Famous for her bubbly personality, Ada was the eldest of the 'Seven Petyarre Sisters' (Kathleen, Gloria, Nancy, Violet, Myrtle and Jean) from Mulga Bore and became well known in art circles for painting with bright colours at a time when many at Utopia weren't doing so.
Ada Bird Petyarre was born on the old Utopia station at Atnangkere. An Anmatyerre speaker, and, at the end of her life one of the senior women on Utopia, she also painted a variety of other Dreaming images including Bush Bean, Emu, Pencil Yam, and Grass Seed in common with Emily Kngwarreye and Gloria Petyarre.
Having created batiks since the first workshop at Utopia in the late 1970's, she emerged as a dynamic participant in the 'Summer Project' organised by Rodney Gooch of the Central Australian Aboriginal Media Association, CAAMA in 1988. This workshop was to play a vital role in introducing women into what was, at the time, a male dominated activity. Ada was then recognised for her important cultural role and her talent as an artist with the National Gallery of Australia in Canberra acquiring a major canvas in 1989, followed in quick succession by a number of other important public and private collections including the Art Gallery of New South Wales, the University of Queensland, the Holmes a Court Collection and the Kelton Foundation in Santa Monica, USA, In 1990 Ada Bird's first solo exhibition was held at Utopia Art in Sydney.
Her works incorporate both traditional designs and representational elements and are best known for their sinuous, flowing bands of colour and minimal ornamentation. Yet many of her most admired works, including that in the National Gallery of Australia are distinguished by fine, variously coloured dotting. These works, though rare, have proven to be particularly collectable. In 1990, Ada Bird made the first screen-print by a Utopia artist, and continued to make woodblock prints throughout her career.
With an impressive exhibition history and a strong presence in the literature Ada Bird was one of Aboriginal Australia's most long-lasting artists, and perhaps the most under-rated. Her batik work, however – some produced during a cross-cultural workshop in Jogjakarta in 1994 – has been particularly admired at the NGV; touring in their Raika Wara show in 1998/9 and again in Across the Desert in 2008/9. She was married to fellow artist, Lindsay Bird Mpetyane.
The highest price achieved for a work by Ada Bird at auction was the $27,600 paid for Atnangkere (Awelye) 1990 that had a Delmore Downs provenance, and had been exhibited at the Haywood Gallery, London, the Kunstsammlung Nordrhein-Westfalen in Dusseldorf and Gallery Gabrielle Pizzi, Melbourne.